St Pancras Clock Tower King's Cross
Happy hour
High above the city, this two bedroom, two bathroom home sits within the famous clock tower of St Pancras station, and keeps a watchful eye over one of London's most exciting areas. While keeping plenty of old-world charm, Kings Cross has enjoyed a flurry of cultural developments in the last 20 years, as art galleries, orchestras and museums have all migrated from other more traditionally affluent areas of London. Inside the iconic monolith, turn back time in the presence of the original clock-winders room, and the wooden box on the east wall which once housed the clock's weights.
Hand in hand
Your hosts are a local government councillor and an actuary-cum-house-builder. Between them they count beekeeping, rowing and book-collecting among their hobbies. Their passion for architecture and interior design is unarguably played out all over this outstanding Victorian home, the layout of which they were personally involved in designing.
Second to none
Hidden at the end of one of the Midland Grand Hotel's old corridors is a single wooden door. Beyond it is one of London's most unique and whimsical homes. The wooden beams in the reception hall hint at the original features and Victorian flourishes which pervade throughout, and the chaise longue and armchair are ideal for catching your breath before it's taken away again by the rest of the home. In the large kitchen, whip up supper beneath the giant orb lightshade which hangs amid yet more charming asymmetric beams, or pad through to the tower room. Here, ten metres of original exposed brickwork soar above four retro recliners, and a steel spiral staircase leads up to an expansive library. Sip a glass of wine, perhaps, while surveying London's vista from the evocative arched windows.
Some repose may well be needed after the tower room's dizzying heights, so descend to the lower tower and the master bedroom, where a double bed lies alongside a bespoke, laddered bookcase, and a high-end ensuite commandeers its own mezzanine, complete with under-floor heating and a stand-alone bath. The second bedroom enjoys its own mini-kitchen and similarly-plush ensuite.
Around the clock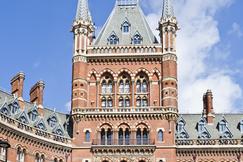 No need to clock-watch in this fabulously connected Kings Cross home: reach the famous British Library next door in one minute, reach Oxford Circus via the Victoria Line in ten minutes, or the piquant pleasures of central Paris in two and a half hours via the adjacent Eurostar terminus. The area itself is currently enjoying something of a renaissance, with a number of bars and restaurants within easy reach, while the Gilbert Scott restaurant downstairs in the Midland hotel is also fast becoming a must-try for foodies.
Stay here
Every stay includes
Wifi as standard

iPhone for data & local calls

A welcome to the home

Toiletries, towels & linens

Local recommendations

Top-notch cleaning

24/7 phone support